Does Passiontide Exist?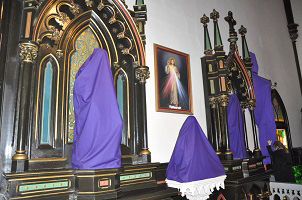 Of course, in the Extraordinary Form calendar from 1962, there is a roughly two-week period known as Passiontide, running from the Fifth Sunday in the Lenten season through Holy Week. But does Passiontide exist in the Ordinary Form? Well … yes and no.
No
The Roman Missal — Third Edition uses the titles First, Second, Third, Fourth, and Fifth Sundays of Lent.

The GIRM divides the Liturgical Year as: I) The Paschal Triduum, II) Easter Time, III) Lent, IV) Christmas Time, V) Advent, and VI) Ordinary Time.

The word "Passiontide" does not appear anywhere in the GIRM.

Passion Sunday was an earlier Novus Ordo title for Palm Sunday, which is now called "Palm Sunday of the Passion of the Lord."

The GIRM delineates "Lent" as starting on Ash Wednesday and continuing until before the Mass of the Lord's Supper on Holy Thursday. The same Lenten observances (no Alleluia, no flowers, violet vestments, no Te Deum) carry through the entire season (excepting Laetare Sunday, solemnities and feasts).
Yes
Statues and crosses may be covered on the Fifth Sunday of Lent, formerly known as Passion Sunday.

Prefaces I and II of the Passion of the Lord are used during the Fifth Week of Lent and the first three days of Holy Week.

The hymns in the Liturgy of the Hours listed for Holy Week begin during the Fifth Week of Lent.

The pattern of daily readings for Daytime Prayer changes during the Fifth Week of Lent.

The Entrance Antiphons [Introits] at Mass take on a more somber tone starting on the Fifth Sunday: "Give me justice, O God …" "Have mercy on me, O God …" "Jesus bore our sins in his own body on the cross…" "I am a worm and no man …" "

The Lectionary includes Gospels from John 8 on the weekdays of the Fifth Week of Lent. These take place in Jerusalem, recounting the Lord's confrontation with the Pharisees, which ultimately led to his Passion and Death.
So, is there a "Passiontide." Yes and No. The actual term is no longer in official use for the Ordinary Form, but the Church alters the Fifth Week of Lent enough to consider it different from the first four weeks. Therein lies a lovely blessing for the faithful, who having experienced the rose vestments, flowers and organ music of Laetare Sunday, witness the sober veiled statues and crosses the very next week, on the Fifth Sunday of Lent (neé Passion Sunday).
Article written 08 April 2019