NAC at 150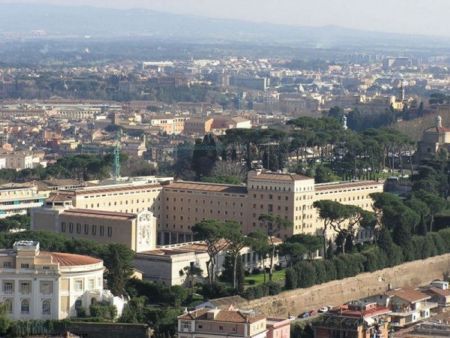 The North American College (NAC) is responsible in large part for the company known as CanticaNOVA Publications. I had the profound privilege of serving as Director of Sacred Music there from 1991-1993. CNP's flagship publication, the first book we published, is the Book of Sung Gospels, the contents of which were written and used by the new deacons at the college during my years there.
Here are some fond remembrances of those years in Rome:
The Liturgy of the Hours, beautifully chanted, according to a progressive solemnity schema, to the Meinrad Tones of Rev. Marcel Rooney, OSB. I learned to pray and to love the Hours while at NAC.
The liturgical choirs: the Coro Grande and Schola Cantorum
The visits from family and friends; and the joy of showing them my adopted city.
The reverberant Chapel of the Immaculate Conception, great for organ music, choral music, and chanting the Hours.
Being able to plan and execute music for every day in the liturgical calendar, not just Sundays and holydays.
Diaconate Ordination in Saint Peter's Basilica. What an overwhelming opportunity — to plan a liturgy in that great church built over the remains of the first pope, to play the organ, to direct the choir, to watch as dozens of fine men are ordained deacons on thier way to priesthood.
The Spaghetti Bowl, a football game that pitted the New Men against the Old Men; also a good excuse for pick-up bands, revelry, tailgating, and good American fun.
The Advent Choir Concert, presented to the NAC community and invited guests from Rome.
My wind-up alarm clock — I trusted my memory more than Roman electrical grid.
The ease of walking in the city, and never having to drive in the abonimable traffic.
The proximity to the pope, and all the papal ceremonies we attended and sang for.
The open air fruit markets.
The rosette at breakfast — crusty rolls, hollow, with segments — served with butter (the only time Italians would think of eating butter on their bread!).
Sneaking a snack of shortbread cookies and ginger ale up to my room.
The magnificent churches of Rome, hundreds of them, waiting to be explored on free mornings.
The delicious pastas of Rome, especially the fine Carbonara served at NAC.
The three-manual Mascioni pipe organ, to that point the largest instrument I'd played. Prior to its restoration in the mid-90s, the organ had its unusable stops and its occasional ciphers — part of the beauty of an old Italian pipe organ.
The wonderful seminarians of the college, many of whom I'm still in contact with today as holy priests of God.
The special pranzos for Thanksgiving, Easter, Ordination; the everyday cenas with pizza and tuna in olive oil; every breakfast, with rolls and fruit and cappuccino.
The faithful and sensitive faculty, led by then Msgr. Edwin O'Brien (now Archbishop of Baltimore).
The view of Rome from my long, horizontal picture window on the fifth floor.
Watch a video about the college, produced for its Sesquicentennial Year in 2009: