Ignoramus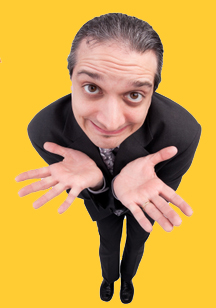 So I'm taking on the role of "Everyman," that Medieval English concept of an ordinary individual with whom readers can identify easily. My name is Ignoramus, and yes, there is a double entendre there, for I mean it in the sense of someone who "ignores" or "doesn't know," from the Latin, and pronounced een-yo-RAH-moos. But it may also be pronounced, ig-no-RAY-muhs, meaning a "stupid person." In this treatise, I'll show how I, Ignoramus, approach liturgical life in these United States. Just what do I ignore?
Latin
I know, I know… it's the Roman Catholic Church, but we're in America. And the Second Vatican Council, which I'm otherwise a huge proponent of, states, "the use of the Latin language is to be preserved in the Latin rites," but we've come beyond that; let's not move backwards. Sure, the new Roman Missal has Latin chant right in place in the text, but that certainly applies to someone else. And when you read, "The treasure of sacred music is to be preserved and fostered with great care," that just means what we now consider traditional music, like "Be Not Afraid" and "Amazing Grace." That doesn't mean Latin choir stuff.
The Creedal Bow
"At the words that follow, up to and including and became man, all bow." Let me tell you, this was much easier to ignore when everyone wasn't staring at the text to get this uppity new translation right. But, if the priest doesn't do it, and I pass over it like something inconsequential, eventually everyone will ignore it until they memorize the new text — then, outta sight-outta mind, it'll be gone forever!
Washing Whose Feet?
"The men (vir, i.e. males) who have been chosen are led by the ministers to seats prepared." Wow, good thing I can't translate Latin, or that pesky vir would mess up the inclusive spectacle that this rite has become, to my pleasure. If the Lord really knew what he was doing, he would have called in the servants and the cooks and the widows and the kids and washed everybody's feet … and hands, and faces. No, wait! He would have led everybody to wash everyone else's body parts. Yeah, that's the ticket! And I just don't buy that this rite is optional. The phrase, "…where a pastoral reason suggests it" — goodness, that only applies when I want to warp liturgy to my own preferences! I say, let the show go on! And fortunately, in a creative, side-stepping dance maneuver, the U.S. bishops re-translated vir to mean anything you want it to mean. So, HAH! I win!
Propers
I try to keep the Missal, and those hymnals, and the glut of other worship aids firmly closed. They all seem to be printing those atrocious antiphon thingies… I have no idea what those are or where they were exhumed from. Somebody called them… "propers." I was great at ignoring them for almost fifty years by pretending that they were an "alphabet-mosaic" on the inside front cover of my missalette. But now, it's getting harder. Parishes are actually doing things with them! How dare they replace my beloved (and spiritually-fulfilling) Gathering Song with some ditty sung by a choir! Oh, yeah, maybe they invite me to sing a few psalm words; but I refuse! I treasure my pop-style entitlement. I have a right to hip, cuddly music that moves me. I like to say, " Propers just ain't… proper!"
Participation
I've heard it said that, somewhere in the dusty rubric mausoleum that haunts the Roman Missal, there's allowance for a choir to sing in my spots, like at the Gathering Music, or the Glory to God, or the Psalm Response. Well that's just hog-wash, and I won't stand for it! What earthly good is Eucharistic Liturgy if I can't sing every moment of it myself? I just don't feel holy unless my mouth is open and I'm belting out a toe-tappin' praise song all the time. And such garbage about participation by listening — that's what earbuds are for!
Organ in Lent
OK, the book says, "During Lent, the use of musical instruments is allowed only so as to support the singing." Darn if this one isn't a tough dodge; it's so exasperatingly clear. But pastoral need shows so many good reasons why we need organ music all year round:
Preludes help keep people quiet before Liturgy.
We paid $100,000 for that doggone, over-blown radio, and we're gonna use it!
Music can create the right ambience for Lent; stark yet intense; simple yet profound.
There's too much luscious organ repertoire for Lent — when would I ever play my "Variations on Ashes"?
We've always done it this way.
But maybe I should just give up the battle; this one's stacked against me in print. Maybe we could side-line the pipe organ completely and let the Environment Committee use the console as a stand for our Advent Jesse Tree and our Lenten Desert-Scape.
I, Ignoramus, take comfort in the National Church's permissive attitude toward Liturgy in general. It allows me to pick and choose what I want [love those Children's Eucharistic Prayers and the Apostle's Creed] and ignore the antiquated nuisances that pop up like fungus in my liturgical environment. I like my Liturgy Buffet — I can munch all the deep-fried yummies!
Article written 30 August 2015