The Guys in the Loft
In evaluating your music program, here's a tough question for you:
What are you doing to recruit and maintain middle and high school boys in your choirs?
Check out this article from the November 2016 online edition of Voices, the newsletter of the American Foundation Pueri Cantores, an international Catholic student choir organization. Some helpful tips are at the end.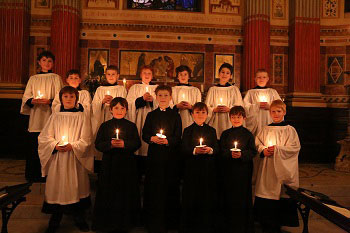 My name is Forrest Nolan. I am a recent graduate of the Ruth Asawa San Francisco School of The Arts. My brother, Christopher, and I are part of the Golden Gate Boys Choir and Bellringers (GGBC), a Catholic boys choir founded in the San Francisco Bay Area. It is through this program that we have gone to New Zealand, Hawaii, Washington DC, Germany, and for a third time this past winter, the Vatican.

Our journey in the choir actually started with my eldest brother, Jeremy, who had a knack for handbells. The music teacher, Mr. Steven Meyer, was the director of the GGBC, and, after convincing my older brother to give it a shot, soon convinced my parents to enroll their first grader as well.

If you are a parent in the same boat, you might be familiar with how extensive the commitment made can be: hour-long carpooled commutes out of town to venues you have never heard of, dress rehearsals that leave you in the parking lot supervising raffle ticket selling. Or, if you're as lucky as my parents were, temper tantrums about how it's Friday and I just scheduled a play date and how could they possibly make me go to a rehearsal that I knew was at the same time every week.

It was because of my extensive training in the choir that I was warmly welcomed into the premier arts high school in our city. I learned how to ride the bus and train to concerts, rehearsals, and back. The choir was an essential step in the way I was to mature, and at a young age, I taught myself and my younger brother to be independent when we needed to be.

It turned out to be much needed when, during my junior year in high school, seventh grade for Christopher, our father passed away unexpectedly, and our faith and ability to persevere was really put to the test. Mr. Meyer aided us in putting together the most beautiful funeral service I have ever been to, with the choir loft crowded with singers from the GGBC, my high school choir, and other friends we'd made along the way.

When that choir season ended, we were so fortunate to be granted an AFPC scholarship to participate in the 2016 Pueri Cantores International Congress in the Vatican. It was solely due to that scholarship that we are able to attest to the experience as one that was not transient in nature, but permanent and vivid in our memory. I was able to serve as assistant director this time around, and I found out that I did have the potential to be a leader. That realization was one of the most inspiring moments in my life.

At least once a year, our choir participates in a Pueri Cantores Festival, and it's always an eventful day. Everyone has an amazing time. After an afternoon of practice and snacking, we join each other in singing during mass, and perform our own pieces for each other, and it is — every time — a wonderful evening of music.

But participating in the international festivals is truly an eye opening experience. Perhaps my favorite part of these Congresses is the calibre at which the best choirs perform. Our trip to Rome was just the same, but another step up. Tours were interspersed with our Pueri Cantores rehearsals. Thousands of choristers made up a sea of bodies wherever we gathered, and joining together in song with such momentum led by the Holy Father was truly a spiritual experience. My elementary Italian skills often came in handy when natives would ask what us blue-windbreaker, red-scarf wearing Americans were doing in Rome. I let them know we came from California and were there to sing for the Pope!
Some thoughts on encouraging those male singers in your program:
Start recruiting boys in Kindergarten, when there's little averson to singing in public. Look to young siblings of current choir members.

After First Communion (usually around 2nd grade), graduate these young boys into their own choir, with its own name and its own unique robes. This choir can, and perhaps must, sing with the elementary-age girls choir, but it's good for boys to have a choral identity of their own. As the group develops in competence, by all means let them sing on their own. There is an ancient and venerable tradition of boys' choirs in the Catholic Church — and the Anglican Church still maintains that tradition.

Promote good, healthy singing habits among the boys. Let them exercise their top range — those clean high notes, properly formed, are the hallmark of a grade school boy's voice.

As they age into middle school, and voice change looms imminent, don't abandon these well-trained young musicians. As their voices become unwieldy, you might recruit them to play handbells — maybe even forming a small group specifically for them. It doesn't need to be large; you can find ways that chord clusters and easy obligatos can add a nice touch to hymns and Mass settings. We use grade school boys and girls as Youth Cantors at the church. When the boys' voices become unreliable, the are invited to play a simple handbell part (using about 6 bells), laid out permanently on a table in the loft, that enhances the seasonal Mass setting we're using. That way, any boy can play at Mass during those times when he might have cantored. This program started three years ago, and the same participants, who are now secure tenors and basses, still vie for the chance to play the handbell "solo" during Mass.

Don't give up on their singing voices completely. Read up on the changing-voice singer (cambiata). As a boy matures, his voices first blossoms into that gorgeously clean, focused quality of a fine treble singer. Eventually the top notes disappear and for most boys, the range lowers and shrinks into very low alto range, perhaps no more than a few notes surrounding middle C. Take these boys, whose voices, although limited in range, have a rich and fresh tone, and find some music that matches their capacities. You might transpose a hymn tune down a fifth to make it singable. Some Gregorian chants have a narrow range (e.g. Ave verum); even a few boys can sing these a cappella and contribute in an effective way to the music-making that is part of their experience. When young men reach this "changing-voice" stage, they can move into another choir, again with a distinct name and vesture. They stay with this group through 8th grade.

All the graduates of the elementary/middle school choirs should serve the parish in a high school group. We have a Religious Education program the meets around the weekly Wednesday night Mass. This rather intimate Mass, made up of their peeers in addition to adult parishioners, is our venue for the high school choir. Singers from the girls' choir and young men from the cambiata group easily form an SAT or SAB group; as numbers swell over the years, they may even handle SATB pieces, just like their secular high school counterparts.

Invite some of these "new" baritones to sing with the adult choir for a special anthem. Maybe combine the high school choir and the adult choir for a festive Christ the King Mass.

Recruit a promising young piano player as an organ student. Make it your donation to the future of the profession to offer him free organ lessons. Until he's ready to play some repertoire or easy accompaniments at Mass, have him help at the organ — turning pages or adding stops. Check out the American Guild of Organists' Pipe Organ Encounters in your area. These are programs aimed at introducing piano students to the organ.
Don't bemoan the lack of men in your adult choir — try some of these ideas and train your own tenors and basses!
Article written 18 November 2016