Another Rosary Concert
at the Priory of the Annunciation,
Charles Town, West Virginia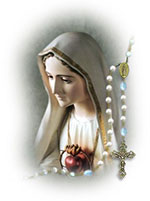 Several years ago we posted an article about a A Rosary Concert by Dr. Gregory Hamilton, using a "decade of Ave Marias." Since then, many people have used that idea in their own parishes, including an ecumenical concert by Jane Errera in Bethlehem, PA. In honor of the 100th anniversary of the apparition of the Blessed Virgin Mary in Fatima in 1917, the Schola of the Priory of the Annunciation [Canons Regular of the New Jerusalem], presented their own Rosary Concert on October 21, 2017. An outline follows, with a cappella music based on the fifteen traditional mysteries of the Rosary:
The First Joyful Mystery: The Annunciation
Dixit Maria – Hans Leo Hassler (1564-1612)

The Second Joyful Mystery: The Visitation
Benedicta tu – Cristóbal del Morales (c.1500-1553)

The Third Joyful Mystery: The Nativity of the Lord
O magnum mysterium – Tomás Luis de Victoria (c.1548-1611)

The Fourth Joyful Mystery: The Presentation of the Lord
Senex puerum portabat – Tomás Luis de Victoria (c.1548-1611)

The Fifth Joyful Mystery: The Finding of the Child Jesus
Passer invenit – Heinrich Isaac (c.1450-1517)


The First Sorrowful Mystery: The Agony in the Garden
Miserere mei – Antonio Lotti (1667-1740)

The Second Sorrowful Mystery: The Scourging at the Pillar
Improperium expectavit – Orlando di Lasso (1532-1594)

The Third Sorrowful Mystery: The Crowning with Thorns
Five settings of Passion Chorale – Johann Sebastian Bach (1685-1750)

The Fourth Sorrowful Mystery: The Carrying of the Cross
Adoramus te, Christe – Giovanni Maria Nanino (c.1543-1607)

The Fifth Sorrowful Mystery: The Crucifixion
Tenebræ factæ sunt – Marc'Antonio Ingegneri (c.1535-1592)


The First Glorious Mystery: The Resurrection
Regina cæli – Gregor Aichinger (c.1565-1628)

The Second Glorious Mystery: The Ascension
O Rex gloriæ – Luca Marenzio (1556-1599)

The Third Glorious Mystery: The Descent of the Holy Spirit
Factus est repente – Jacob Handl [Gallus] (1550-1591)

The Fourth Glorious Mystery: The Assumption
Exaltata est – Francisco Guerrero (1528-1599)

The Fifth Glorious Mystery: The Coronation of the Blessed Virgin Mary
Inviolata integra / Regina cæli / Alma Redemptoris / Ave Regina – Jean Mouton (c.1459-1522)
The concert closed with audience participation on the hymn Jerusalem. My Happy Home, arranged by Adam Taylor.
Article written 02 November 2017