Advent Lesson and Carols
Last year, at Saint Leo the Great Catholic Church in Inwood WV, a Service of Advent Lessons and Carols was presented by combined adult choirs and combined children's choirs. Here is the program presented.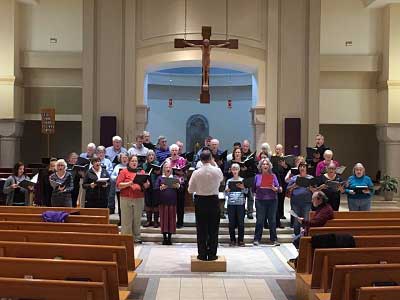 Welcome to this concert of Chorus Catholicus, a combined Vicariate Choir made up of Catholic choirs from the Eastern Panhandle (of West Virginia). This year we are joined by Youth Choirs from the parishes, as well as handbell ringers and instrumentalists. Clergy from our parishes serve as readers for the Lessons and Orisons (prayers). The translation used for the Lessons is the Douay-Rheims Bible (translated from the Latin Vulgate). The Orisons come from the Book of Divine Worship, the Missal used by the Roman Catholic Anglican Ordinariate. We hope you enjoy the concert this afternoon, based on the traditional service of Nine Lessons and Carols from Kings College, Cambridge UK.
Opening
Processional: Prepare the Way of the Lord (Jacques Berthier, Taizé Community)
sung by combined adult and children's choirs, with organ, handbell and violin accompaniment
Welcome: by The Rev. Alfred Obiudu, Pastor of Saint Leo Church
Collect: from Book of Divine Worship – Preface for Advent
Carol: O Come, O Come, Emmanuel, verses 1-3
sung by congregation, accompanied by piano, handbells and violin
Lesson I
Lesson: Genesis 3:8-15 – The fall of Adam
Anthem: Deo gracias! from Ceremony of Carols (Benjamin Britten)
sung by the ladies of the combined adult choirs
Orison: from Book of Divine Worship – Fourth Sunday of Advent
Lesson II
Lesson: Isaiah 11:1-3a, 4a, 6-9 – The root of Jesse
Anthem: Es ist ein Ros' entsprungen (Melchior Vulpius)
sung as a four-part round by the combined adult choirs
Carol: Lo! How A Rose E'er Blooming [tune- Es ist ein Ros]
sung by congregation, accompanied by organ
Orison: from Book of Divine Worship – for Peace
Lesson III
Lesson: Genesis 22:15-18 – The promise to Abraham
Anthem: Sicut locutus est / Gloria Patri from Magnificat in Bb (Francesco Durante)
sung by the combined adult choirs, accompanied by organ
Orison: from Book of Divine Worship – Second Sunday after Christmas
Carol: O Come, O Come, Emmanuel, verses 4-5
sung by congregation, accompanied organ
Lesson IV
Lesson: Isaiah 9:2, 6-7 – The people who walked in darkness
Anthem: Bereite dich Zion / Prepare Thyself, Zion from Christmas Oratorio (J.S. Bach)
sung in German and English by combined children's choirs, accompanied by harpsichord and violin
Orison: from Book of Divine Worship – First Sunday of Advent
Lesson V
Lesson: Isaiah 40:1-11 – Comfort ye, my people
Organ: Freu dich sehr, o meine Seele / Rejoice reatly, My Soul (Georg Böhm)
Carol: Comfort, Comfort Ye, My People [tune- Freu dich sehr]
sung by congregation, accompanied by organ
Orison: from Book of Divine Worship – Second Sunday of Advent
Lesson VI
Lesson: Baruch 5:1-9 – Arise, Jerusalem!
Antiphon: Jerusalem, surge / Jerusalem, arise (Gregorian chant) Communio for 2 Advent
sung by the gentlemen of the combined adult choirs, intonation by Gary Penkala
Orison: from Book of Divine Worship – Third Sunday of Advent
Carol: O Come, O Come, Emmanuel, verses 6-7
sung by congregation, accompanied by organ, handbells and violin
Lesson VII
Lesson: Wisdom 18:14-15 – The Word leapt from heaven's royal throne
Antiphon: Alma Redemptoris Mater (Gregorian chant)
sung by the combined children's choirs, intonation by Jacob Perkowski, treble
Motet: Alma Redemptoris Mater (G.P. da Palestrina)
sung by the combined adult choirs, intonation by Brian Kaltenbaugh
Orison: from Book of Divine Worship – Feast of the Holy Family
Lesson VIII
Lesson: Revelation 11:19a; 12:1-6 – A woman clothed with the sun
Motet: Ave Maria (Jacob Arcadelt)
sung by the combined adult choirs
Carol: Hail, Holy Queen Enthroned Above [tune- Salve Regina cælitum]
sung by congregation, accompanied by organ
Orison: from Book of Divine Worship – Christmas Day
Lesson IX
Lesson: Saint Luke 1:26-38 – The Annunciation of the Lord
Anthem: The Angel Gabriel (Basque carol, arranged by Robert Edward Smith)
sung by combined adult choirs
Orison: from Book of Divine Worship – Solemnity of the Annunciation
Closing
Anthem: The Virgin Is with Child (Randall DeBruyn)
sung by all choirs, accompanied by harpsichord, organ and violin
Blessing & Dismissal: by The Rev. Alfred Obiudu, Pastor of Saint Leo Church
Organ Recessional: Processional on Ellacombe (anonymous)
Leaders
Host Pastor:
The Rev. Alfred Obiudu (Saint Leo Church, Inwood WV)
Readers:
The Rev. Mr. James Munuhe (Saint James Church, Charles Town WV)
The Rev. Mr. Marcus Pressl (Saint Joseph Church, Martinsburg WV)
The Rev. Mr. Brian Crim (Saint Leo Church, Inwood WV)
Choir Directors / Accompanists:
Gary Penkala (Saint James Church, Charles Town WV)
Craig Kesner (Saint Joseph Church, Martinsburg WV)
Brian Kaltenbaugh (Saint Leo Church, Inwood WV)
Instrumentalists:
Julianna Perkowski (violin)
Alyssa Powers & Lara Boné (handbells)
Article written 19 December 2016
Also see: