Singing the Mass Propers in English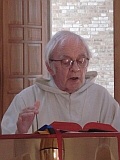 In the Summer 2009 issue of Sacred Music magazine, Jeffrey Tucker, managing editor, describes the plight of Latin in many parishes. He then offers six options that can support the chant patrimony of the Church ... in English!
There are parishes where the pastor has said to the schola or choir: no Latin under any circumstances, not even for the propers that the schola aspires to sing. They can chafe and complain about this edict, or they can find a workaround, still using music of the Roman Rite while employing the vernacular. Before very recently, this was a tricky proposition, but in the last year or so, everything has changed. There are now six sets of English propers online, either complete or on their way toward completion, and available for immediate download at no charge.
These are the six sets he mentions, each with a different English translation of the Latin propers. Here the text for each is from the Introit for the First Sunday of Advent.
Jeffrey Tucker concludes his article:
By highlighting the English settings here, I don't intend to claim that they are an ending point, but rather a transitional step toward the unchanging ideal of the Gregorian propers. They are very welcome additions to Catholic repertoire and far more dignified and useful for ritual purposes than the bulk of offerings from mainstream publishers today.
CanticaNOVA Publications, too, has ways to sing the Propers in English: