Prophet of Music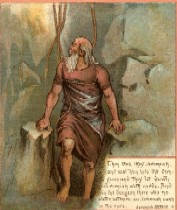 Ponder the readings for the 20th Sunday in Ordinary Time (Year C). In the first reading, we hear of the lot of many (if not most) of the prophets: they are despised by secular society and even disdained by God's people, whom they've come to instruct. Jeremiah, thrown into the cistern, seems to cry out from the mud that surrounds him: "The Angel of the Lord shall deliver those who fear him" [Offertory Antiphon, Ps 34:8-9].
This struck me as relevant to the situation in Catholic church music today. To paraphrase Andrew Lloyd Webber:
Prophet of music
Hide no longer
Secret and strange prophet.
Who is this "Prophet of Music"? The musical path we follow today certainly has roots in the early days of the Liturgical Reform. The monks of Solesmes, led by Dom Prosper Guéranger, did foundational work in refining Gregorian chant in the late 19th century. Less than a generation later, Pope Saint Pius X accepted the Liber usualis as authoritative, mandating the use of chant, in Propers sung by the schola and in the Ordinary, sung by the congregation.
Venerable Pius XII continued to promote quality church music with his encyclical Musicæ sacræ in 1955. Venerable Paul VI did the same in Musicam sacram, published by the Congregation for Divine Worship in 1967. In 1974, he took action by sending the booklet, Jubilate Deo, containing what he called "a minimum repertoire of Gregorian chant," to every bishop in the world.
Between these two popes, various clerics and musicians lobbied for good music in our churches: Benedictines Mocquereau, Gajard and Cardine; Msgr. Richard J. Schuler, Rev. Carlo Rossini, Nicola A. Montani, Justine Ward, Paul Koch. Likewise, composers Flor Peeters, Anton Heiller, Jean Langlais, Maurice Duruflé, Theodore Marier. Even the publisher McLaughlin & Reilly had an important musical role in music for the Catholic parish.
Today there are many voices who exhort us to keep high the level of music in the Church: Rev. Robert A. Skeris, William Mahrt, Jeffrey Tucker, Arlene Oost-Zinner, Scott Turkington, Adam Bartlett, Richard Rice, Jeff Ostrowski, among others.
But who is the real "Prophet of Music" now? A prophet in the theological sense, is not one who predicts the future (à la crystal ball). A true prophet looks at the past as much as the future, speaking divinely inspired revelation about the present situation and ways to improve it. The prophet of the Bible was one who spoke the truth, often admonishing the people to reform and change their ways — often to his own detriment [see Jeremiah].
Dictionary entries for prophet:
one gifted with more than ordinary spiritual and moral insight
an effective or leading spokesman for a cause
an advocate [from the Greek word profétés]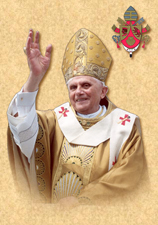 I would hold up Pope Emeritus Benedict as our modern Prophet of Music. His numerous writings, his demeanor, his teaching and the model of his liturgies have preached clearly of the beauty and efficacy of sacred music. Look here for some of this material. Like the biblical prophets, Pope Benedict has been ignored and misinterpreted by many. Whole groups of people (of musicians), bent on following their comfortable way of life (on using their dated, emotion-driven music), react with vehement aggression to the simple, humble counsel of our Prophet (of Music).
We Catholics in the United States are surrounded by an "established religious" music, with its roots in the unfortunate radical experiments of the 1970s. Parishes and musicians steeped in this repertoire are often hostile to reform.
The "Prophet" Benedict has spoken. We faithful moderates who follow his teaching must be prophets, too. We must step up and speak the truth about chant, about Propers, about organ, about polyphony and sacred music, about choirs and scholas, about Latin. If we find ourselves dirty and covered in mud — wear it proudly. Others, greater than ourselves, have done it before.
Let us persevere in running the race that lies before us while keeping our eyes fixed on Jesus, the leader and perfecter of faith [Second Reading, Heb 12:1].
Venite exsultemus Domino [Alleluia Verse, Ps 95:1].
Article written 20 August 2013