Oh, Mom!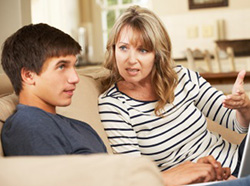 Do you remember when you were in Middle School [or Junior High, for us more mature readers], and your mother said, "Better get started on that science project." Your response:
"Oh, Mom!"
"It's cold outside; wear your gloves."
"Oh, Mom!"
"I really want us all together for dinner tonight."
"Oh, Mom!"
We were just beginning our rebellious years, exploring some new-found freedoms, testing boundaries, tasting independence, and generally focusing on ME.
At the end of the 20th century, an awful lot of music directors and organists, and dare I say priests and bishops, were acting very much like that teenager… myself included. We rebelled against what was perceived by many to be a "constraining" Latin liturgy. We explored the freedom to sing in the vernacular. We tested boundaries of music at Mass, which were stretching to accommodate Joan Baez, Simon & Garfunkel, and Bob Dylan. We shed the Propers [if we ever knew them], claiming independence from the Graduale and the Missal. We boasted that WE were in charge of music at Liturgy.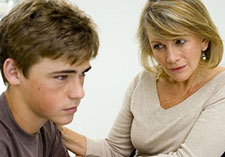 Fortunately, just as with age and maturity we'd come to know that Mom really was right, many of us involved with Roman Catholic liturgy and music have come to see that Holy Mother Church is right, too. She, as a true mother, hopes to guide and form us on our way.
Progress has been made; that is, we've grown up:
We've accepted the Lectionary readings given for each Sunday, without trying to replace them with something else.
We're (for the most part) singing the correct Responsorial Psalm text, instead of using paraphrased "psalm-songs."
We don't make up prayers for Mass, and we don't change the Creed anymore (at least not without some degree of disdain from the congregation).
We celebrate the liturgical seasons in the correct liturgical colors.
First Reconciliation happens before First Communion in the parish.
But we've still got a long way to go before becoming mature Catholic musicians and liturgists:
We still totally ignore the Propers [Introit, Offertory, Communion], replacing them with songs and hymns.
We still feel omnipotent, as if WE control the texts and the music for worship.
We don't sing what we should — the dialogues between priest and people.
We sing what we shouldn't — Peace-Rite songs, Lamb of God tropes.
We weary the people with tediously profuse singing, often turning the Mass, for example, into a "tent-revival-hymn-sing" by scheduling three or more songs at Communion time.
We continue to let secular culture bleed into our liturgy, using musical styles and instruments that smell like nightclubs and rock concerts.
We exhibit uncontrolled disdain toward that which belongs in liturgy: Gregorian chant (our music) and Latin (our language). Often this "allergy" is so virulent that even tiny doses of chant or Latin cause liturgical hives that just can't be scratched.
We still eat the same Four-Hymn Sandwich that we did in the late 1960s. Can't we freshen up the menu? And look at that — how ironic — 7th century Gregorian chant is now called "fresh&quot!
Are we ready to grow up liturgically? Holy Mother Church invites us to pray the liturgy, to sing the liturgy, as she's handed it on to us. How patiently she's watched her teenage children shout, "I don't care what you say. I want to do it my way!
Can we turn liturgical-20 tomorrow? Let's throw a party!
Article written 26 May 2015