Anglican-Catholic Music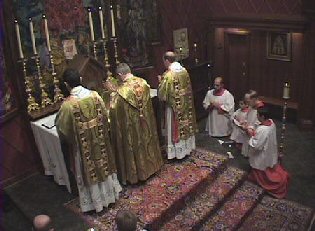 Pope Benedict XVI, in a dramatic and benevolent gesture, has made it possible for Anglicans to enter the Catholic Church, retaining some of their liturgical heritage.
The Catholic Church is responding to the many requests that have been submitted to the Holy See from groups of Anglican clergy and faithful in different parts of the world who wish to enter into full visible communion. The Holy Father has introduced a canonical structure that provides for such corporate reunion by establishing Personal Ordinariates, which will allow former Anglicans to enter full communion with the Catholic Church while preserving elements of the distinctive Anglican spiritual and liturgical patrimony. Under the terms of the Apostolic Constitution, pastoral oversight and guidance will be provided for groups of former Anglicans through a Personal Ordinariate, whose Ordinary will usually be appointed from among former Anglican clergy. The Apostolic Constitution provides a reasonable and even necessary response to a world-wide phenomenon, by offering a single canonical model for the universal Church which is adaptable to various local situations and equitable to former Anglicans in its universal application.
There are many ways that an influx of "liturgically savvy" Anglo-Catholics can have a beneficial effect on music within the Catholic Church. Think of English-texted chanting of propers [to Anglican chant]; think of the beautiful Mass settings, in both Latin and in English, from the English tradition [Byrd, Tallis, Merbecke].
Here are some tools and music that are currently available, which can add solemnity and beauty to Roman Catholic worship — from an "Anglican" perspective: