A Choral Banquet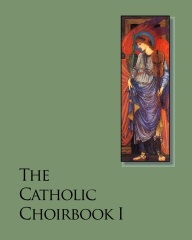 If the Catholic music director were a chef planning a banquet, there are unimaginably many dishes available for a weekly feast. And indeed, we do choose motets from just such a vast repertoire of worthy and appropriate music. The treasury is vast — we can delight in the choosing.
Here are some of the fine composers of motets suitable for Catholic liturgy, all contained in the handsome volume, The Catholic Choirbook I, edited by Noel Jones, AAGO.
Louis Bourgeois (c.1510-1560) – A French composer, noted for his psalm tunes. The tunes Old Hundredth and Rendez a Dieu are attributed to him.

Richard Farrant (c.1530-1580) – A Gentleman of the Chapel Royal and composer of English church music. Known for a service and several anthems, including Hide Not Thy Face.

Marc'Antonio Ingegniere (c.1547-1592) – Italian Renaissance composer, likened to Palestrina in the Roman School. He was maestro di cappella at the cathedral in Cremona and the teacher of Claudio Monteverdi.

Giovanni Luigi da Palestrina (1525-1594) – Italian Renaissance composer of the Roman School; known as the "Savior of Church Music" for his purging of secular styles and influences. His hundreds of Masses, motets and hymns were all unaccompanied [like Adoramus te Christe, Sicut cervus and Dies sanctificatus ], in the prevailing style of the chapels where he worked — hence the term, a cappella, "in the style of the chapel."

Orlando Gibbons (1583-1625) – An English Jacobean composer and organist, with much great choral music to his name, including Drop, Drop, Slow Tears and This Is the Record of John.

Henry Purcell (1659-1695) – An English Baroque composer and organist, notably at Westminster Abbey. His many English-texted anthems include Thou Knowest, Lord, the Secrets of Our Hearts

Francesco Gasparini (1661-1727) – An Italian Baroque composer born near Lucca. At the Pio Ospedale della Pietà in Venice he was Antonio Vivaldi's employer.

Antonio Lotti (c.1667-1740) – Italian composer and organist and the Basilica of Saint Mark in Venice. He wrote many Masses and cantatas; many of his choral works are a cappella. He taught many famous musicians (Alberti, Marcello, Galuppi, Zelenka) and influenced even more (J.S. Bach and G.F. Handel).

Wolfgang Amadeus Mozart (1756-1791) – An Austrian Catholic composer, one of the most influential musicians of the Classical era. Many of his sacred works, including the famous gem, Ave verum, were written when he worked at the cathedral in Salzburg.

Louis Lambillotte (1796-1855) – A Belgian Jesuit priest who championed a restoration of Gregorian chant; known for various hymns and motets, including a setting of Panis angelicus.

John Goss (1800-1880) – English composer and organist at Saint Paul Cathedral (London), where his successor was John Stainer. Known for his hymn tune Lauda anima and carol, See Amid the Winter's Snow. One of his pupils was Sir Arthur Sullivan.

John Stainer (1840-1901) – British composer and organist/choirmaster at Saint Paul Cathedral. His most famous work is the passion oratorio, The Crucifixion.

Théodore Dubois (1837-1924) – A French organist, composer and teacher; perhaps most famous for his Seven Last Words, from which the motet Adoramus te, Christe, is taken.

Fernand de la Tombelle (1854-1928) – A French organist and composer who studied, first with his mother (a pupil of Franz Liszt) and later with Alexandre Guilmant and Théodore Dubois. He wrote several Masses, oratorios, cantatas, and many motets, including O gloriosa virginum.

Edward Elgar (1857-1934) – A British composer, known for the familiar Pomp and Circumstance Marches and Enigma Variations. A Roman Catholic in Anglican England, Elgar's religious music includes The Dream of Gerontius and a simple Ave verum.

Edward d'Evry (1869-1950) – A British organist of the 20th century. His works include an easy setting of O sacrum convivium.