Polyphony Is Not a Sin II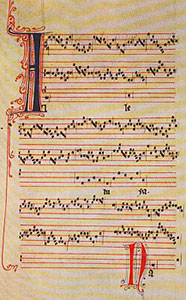 A few years ago, I wrote an article prompted by a promotional bumper sticker from a Classical radio station that I thought was very clever. It read:
POLYPHONY IS NOT A SIN
Here's a sequel.
The Church, in her wisdom of Tradition and in various official documents, has linked Gregorian chant with "sacred polyphony." The nobility and honored position of each within the liturgy of the Roman Rite is undisputed. Polyphony, as a music theory term, means a composition with two or more independent melodic lines that proceed horizontally to produce an effective implied or literal vertical harmony as well. The word itself means "many sounds." A round or canon is a simple example of polyphony. A six-voice, double fugue is a much more complex example, with extensive rules and music theory "rubrics."
The ubiquitous linking of Gregorian chant and sacred polyphony is quite natural — polyphony developed historically from chant. Chant is a monophonic (meaning "one sound") texture: unison, unaccompanied – a single melody line. Music historians note the eventual addition of another part, which at first was simply the same melody sung five pitches higher; this was called parallel organum. It involved the same melody at two pitch levels, both moving identically, like two snakes on the sand. When it became apparent that interesting resting points, or "cadences," could be sprinkled throughout the piece by altering the second melody occasionally, the rudiments of harmony developed. The concept of the beauty of various pitches sounding together blossomed, and polyphony ("many sounds") was born. This was practiced, honed and improved through the Medieval and Renaissance periods. Were it not for the absolute glories of the music, one might even use the word "exploitive" when describing the multi-choral works of the Renaissance, like the motets of Gabrieli and Tallis that were written for as many as 40 different voice parts!
When the Church mentions sacred polyphony she most often means the religious works of the masters of the Renaissance like Palestrina, Victoria, Tallis, and others, although the term can certainly be broadened to include such "non-polyphonic" works as Mozart's Ave verum and "non-Renaissance" pieces like Duruflé's Ubi caritas.
CanticaNOVA Publications is commited to the promotion of both Gregorian chant [see our chant products] and sacred polyphony. We publish a number of motets in our Treasury of Sacred Music series that fall under the second category. Check out some of these for your choir!
So, then … Polyphony Is Not a Sin! On the contrary, it is recommended, sanctioned, approved … and a distinct pleasure. Practice it often!
Article written 31 May 2016