Correct Catholic Music:
Climbing the Chant Mountain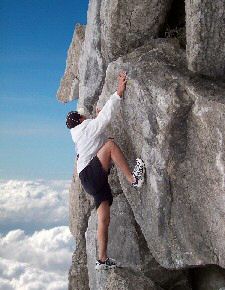 I know the theory ... I know the ideal. And thanks to a concerted effort by many in the Church, from Pope Benedict on down the line, more and more Catholic musicians know the theory and the ideal, too. Gregorian chant should be given principal place in the liturgy and The Propers from the Graduale Romanum are the first and preferred choice for the processional moments and musical lections at Mass. But how will this happen? What should this mean?
Does every weekend Mass in every parish need a masterful Gregorian chant from the Graduale Romanum as the Entrance, Psalm after the First Reading, Gospel Acclamation, Offertory and Communion? This may be possible in monasteries, convents and seminaries, and perhaps even in a few small and liturgically-astute communities, but would it work yet in most parishes? I believe even the most ardent supporter of Gregorian chant would admit, "No."
Since it's clear in Church documents that chant and propers are the preferred style and pattern, let's hold this as an ideal ... something to work toward, understanding that it will be a long and rough path, mostly uphill and frought with traps, set-backs and vigilante attacks. Do not let this arduous task dissuade you, though. Begin slowly to climb the chant mountain.
Here are some small steps:
Jubilate Deo — Start with Jubilate Deo before working toward CNP Booklets of Chant, the Liber cantualis, the Parish Book of Chant, the Graduale simplex or the Graduale Romanum. These books are listed in increasing level of complexity.

Dialogues — Encourage (and help) your priests to sing the dialogues of the Mass, particularly when the new Mass translation is introduced.

Children — Teach chant to children [see Jubilate Deo above]; they have many fewer hang-ups about singing Latin than adults do — in fact, they enjoy the challenge trememdously!

Teens — Teach teens chant. They are in a place in their lives where lingo [e.g. text messaging] is very important. Why not introduce a Catholic lingo. At my parish we have a Wednesday night Mass attended weekly by CCD classes (grades 7 and up) and these kids have learned the four Marian antiphons [Alma Redemptoris, Ave Regina, Regina caeli, Salve Regina] quite on their own by hearing the high school choir sing them at the end of each Wednesday night Mass.

Adult choirs — These groups should have an ample repertoire of chants, from the In paradisum sung by the Funeral Choir to the Te Deum sung by the Festival Choir at the church dedication. Some chants make wonderful "anthems," like Ad te levavi (Introit for 1 Advent), Invocabit me (Introit for 1 Lent), or Vexilla Regis (Hymn for Passiontide), prior to being sung in their proper spot.

Basic Mass — If your parish doesn't already know it, teach them the so-called Missa primitiva, introduced in this order over a period of several years:

Agnus Dei XVIII
Kyrie XVI
Sanctus XVIII
Pater noster
Gloria VIII
Credo III


Seasonal chants — Sing some chants that will last a whole season. Some easy ones: Veni Emmanuel for Advent, Parce Domine for Lent, Alleluia for Eastertide. These can be sung by children's choirs and adult choirs and can even involve the congregation. We often sing Parce Domine as a Communion antiphon during Lent, with English verses from Communion Psalms for the Liturgical Seasons between repetitions.

Repetition — Learn pieces that can be repeated often, not only within the liturgical season, but from year to year. It would be great for the choir [and perhaps the congregation] to know Pange lingua gloriosi to sing every year at the Holy Thursday Transfer of the Eucharist. Other good standards to use every year:

Rorate coeli desuper [Advent]
Puer natus in Bethlehem [Christmas]
Crux fidelis [Good Friday]
Victimæ paschali laudes [Easter sequence]
Veni Sancte Spiritus [Pentecost sequence]
Adoro te devote [Eucharistic]
Ubi caritas [General]


Organ music — Play organ music based on chant. There are numerous examples in organ literature, from the French Baroque composers like Couperin, Clerambault and Titelouze to the French Romantics like Vierne, Guilmant and Widor. The CNP catalog includes this chant-based organ music:

Hearing these chant melodies helps to reinforce them in the ears of the congregation. Playing an organ piece, then having the choir sing it, then using it with the congregation later in Mass is a great way to teach the music.

Patience & Praise — Perhaps the most inportant advice in this article is this: Be extremely patient with the choir, the congregation, the priest and deacon and Praise them abundantly. Don't look for immediate perfection; be happy with small, incremental progress. Nothing can kill a congregation's will to learn chant quicker than a perfectionist pastor or music director who wants things to sound like Solesmes monks ... today! Be tolerant of imperfections — yes, even at Mass — until the congregation is comfortable with the music. And ... did I mention ... praise them frequently. It's not always easy to learn to sing chant in Latin; for many it's as much a psychological as a musical struggle. We should be gentle and help all we can!
With these small steps begin your journey toward the ideal of "principal place" of chant in the Mass. Once chant is comfortable and accepted, scholas can begin the work of actually singing the Mass, rather than singing at Mass. The Propers (Introit, Gradual, Alleluia/Tract, Offertory and Communion) can once again be recognized as the music that belongs to the Roman Rite and belongs in the Mass itself.