Phased Repertoire
In this midst of re-opening after the Covid-19 pandemic scare, musicians are left with a great deal of anxiety and uncertainty. How will we sing? How do we plan? State-wide regulations prompt a huge variety of diocesan and parish protocols for what's allowable and what's still forbidden. These run the gamut from a single vocalist with no congregational singing whatsoever to full congregational involvement in music.
While choirs are almost universally discouraged, at least one singer is generally allowed. What follows are a large number of CNP pieces that can work with one singer, with one singer and congregation, with two vocalists, or with three singers or a small ensemble. Note that many of the Phase 1 and Phase 2 pieces can also work with an ensemble.
Happy programming!
I. Phase 1: One Singer
Alternatim Kyrie (Couperin)
The Kyrie from François Couperin's Mass for the Parishes, set for organ alternating with schola.

Aquinas: Two Eucharistic Texts (Brumby)
Unison versions of O salutaris Hostia and Tantum ergo Sacramentum.

Ave Regina cælorum (Shenk)
This Marian solo/motet is written in Shenk's mildly chromatic style.

Come Down, O Love Divine (Knight)
A simplified version of an English cathedral-style anthem; optional descant.

Emmanuel: An Advent Processional (Penkala)
Sung verses of Psalm 80 punctuated by the refrain of the Advent chant Veni Emmanuel; handbells, wind chimes and non-tuned bells can be added.

Fiat! And Word Made Flesh (Ramjit)
Imagine a cloister … a solo voice … three tuned bells … a portative organ. Now you're ready for Fiat!

For Love of Us (McManus/Stafford)
Ideal for children's choir (the melody is easily learned), this piece could also be sung as a solo by a medium voice

I Know That My Redeemer Lives (Penkala)
The refrain is based on the chant In paradisum from the end of the Funeral Mass; verses from Psalm 116.

O Jesus, My Savior (Campra/Clark)
A charming melody is the star of this arrangement, and could be sung medium-voice soloist or by a unison choir; optional flute may be added.

Mass Propers for the Liturgical Year (Penkala)
These booklets offer an effective and utterly simple way for singers to actually chant the Propers of the Mass, with or without the congregation,

Seven Processionals for the Roman Pilgrimage Basilicas (Penkala)
This series of processionals is inspired by the Roman Pilgrimage Churches, each with appropriate texts in English, Italian and Latin.

Vita mutator: Life Is Changed, Volume 1 (various)
We've compiled a book of this quality music that will not only bring comfort and support to the mourners, but will also contribute to the authentic beauty of the Funeral Liturgy. Many of these pieces are also useful apart from Funeral Masses.

When Christ Was Born of Mary Free (Greene)
This piece sets a traditional Christmas text to a new, modal melody. The flexibility of the piece is apparent: it can be sung simply by unison voice(s) and organ, or it can be embellished (as the composer indicates and notates) by two added canonic voice parts and a handbell ostinato.

You Will Not Be Strangers: Music for the Dismissal Rite (Hill)
This ritual music is for the dismissal rite in the RCIA process. It is practical and useful, due to its well-crafted and singable melody and the thirteen verses, adapted from Ephesians.
II. Phase 2: Two Singers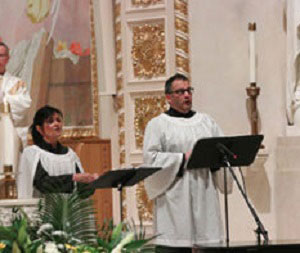 III. Phase 3: Small Ensembles
The pieces above may be ordered on each product page or on this Order Form.
Article written 17 June 2020